Erasmus+ training course in Palermo Italy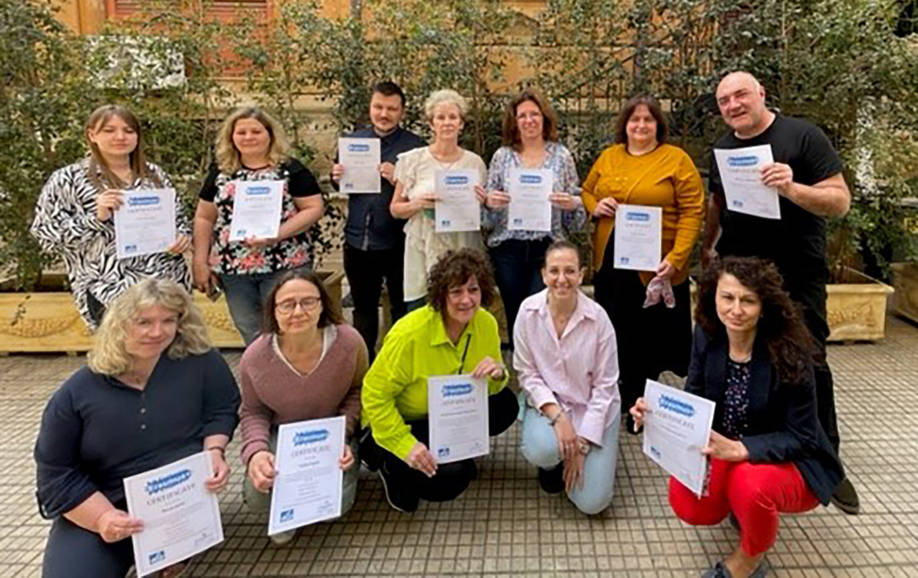 Erasmus+ in Palermo from 26/03/2023 to 01/04/2023:
Discover the best apps and tools for E-learning, Distance learning and Web Design
by Marita Kärki
Saturday 25 March
It took two days to travel from my hometown Rauma (Finland) to Palermo (Sicily) because of poor connections. First, I had to drive to Pori to get on the train and travel to Helsinki-Vantaa. Luckily the train strike had ended the previous day, so I didn't have to worry about how to travel to Helsinki Airport. I stayed at the airport hotel for a few hours at night, and then took the connection bus to the airport at 4 am. The first part of the flight was from Helsinki to Munich, then to Palermo, Airport Punta Raisi. I easily found the local train to Palermo centre, and Google maps took care of the rest of the journey which was a short walk to the Hotel Europa.
It was wonderful to finally arrive at the hotel, get my own room and arrange all my things in the right place. After that, I had a long walk to the Port of Palermo.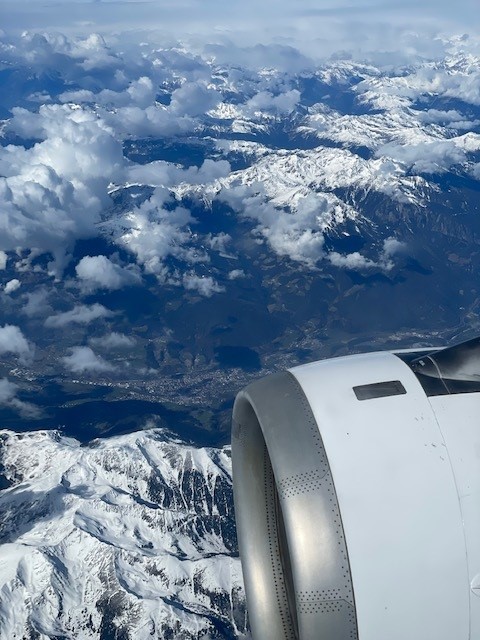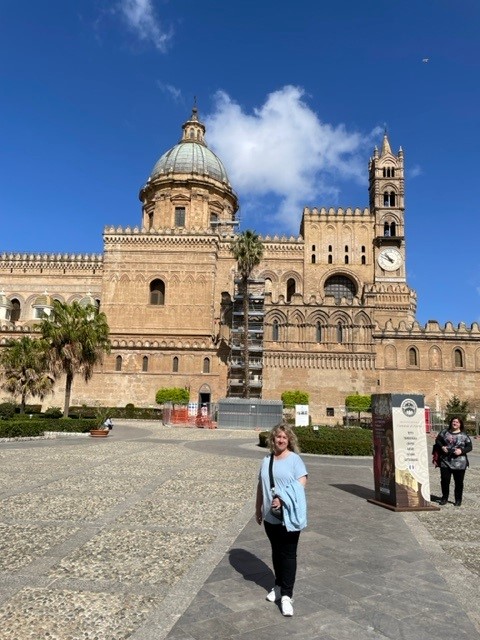 Sunday 26 March
This was the first day of the course. We met all the other participants (over 20 teachers around Europe) and our cultural visits guide Antonio. We had a nice walk in the historical city of Palermo and dinner in Pizza e Cucina Politeama.
Monday 27 March
For some years now, we have used the good learning platform Itslearning in WinNova. The teachers' Itslearning skills are gradually getting better, and it is also possible to create remote courses by using Itslearning. This course, Discover the best apps and tools for E-learning, Distance learning and Web Design was a brief introduction to many learning platforms and digital tools which can be used in addition to Itslearning. The first actual study day, our trainer Serena gave us the ICT works Padlet where all the works we did during the week were collected. The participants came from across Europe, starting with Miroslav, Hristina and Paolina from Secondary Technical School Dr Nikola Vassiliadi in Bulgaria; Ildikó, Enikő, Alexandra and Andrea from Budapest IX. Kerületi Weöres Sándor Általános Iskola és Gimnázium in Hungary; and Kristine, Melita and Karlis from Vidzeme Technology and Design Vocational School in Latvia and of course, I from WinNova, Finland. Our first job was to give a presentation on our schools, and my video on the WinNova Maritime Department impressed everyone in the classroom! We also tried out some online questionnaires such as checking the participants' knowledge on Sicilian stereotypes. That was fun; everyone mentioned mafia as one of the first things to come up when Sicilia is mentioned.
Tuesday 28 March
After a brief presentation of some web tools, we created an advertisement on an invented event for our schools. I made an ad of the educational event against cyber bullying, targeted at the teachers of WinNova. I used Canva for this work. We also learned about a few website creating programs and started our own blogs. I used Weebly for this practice. In the afternoon, our guide Antonio took us for a walk in the old town and we enjoyed the atmosphere of the local market area.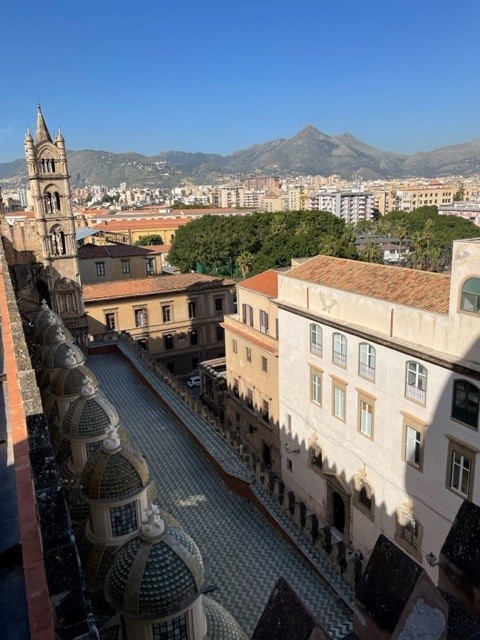 Wednesday 29 March
Every day we had a review of the previous lessons, and after that we continued to some new websites and game tools. Today, the subjects were Menti and Mentimeter with which we reflected our experiences on the course so far. We also did some brainstorming and quizzes. In the evening, we travelled by train to Cefalu, which is a charming little village by the Tyrrhenian Sea, east of Palermo.
Thursday 30 March
Today we explored a tool called EdPuzzle, which allows the teacher to mix videos and questions by reconstructing a YouTube video to make it a learning task for students. I am going to use this tool for my English class students when I find some time to make a concise entity of a topical issue. With Baamboozle I made a game with maritime words and tried it out using following options: play/study/slideshow/share. The trainer gave us a quick general overview on Escape Room using Google Forms. This was an intriguing idea, but unfortunately too complex to acquire in a couple of hours.
The trainer introduced some already familiar websites such as Quizlet and Google Sites. It was easy to make some tests using Quizlet: I created a test for practical nurses in Swedish: Svenska för närvårdare. Art gallery was tested, as well as Socrative, which allowed us to make competitions in groups. It was fun to see how teachers from other countries tried to guess, for example, what Finland is in Finnish. The choices were Zuomi, Cuomi and Suomi. Peppi Pitkätossu was most often located correctly in Sweden.
Friday 31 April
On the last actual working day, we evaluated the contents of the course and gave some feedback about the course arrangements. The course as a whole was a compact overview of many different web tools that may be beneficial in creating motivation and engagement in learning for any type of classes. But it is too ambitious to think that these tools would be available immediately or easily. It takes time to learn how to use them effortlessly and efficiently, and they often require registration. Other arrangements, such as the hotel where we stayed and cultural events, were acceptable, but not of a high standard. Meals were poor, and I personally do not recommend full board to those who participate Erasmus+ courses. A farewell party took place in a pizzeria nearby, and it was nice to talk to people from different Erasmus+ courses to find out what they thought about their courses.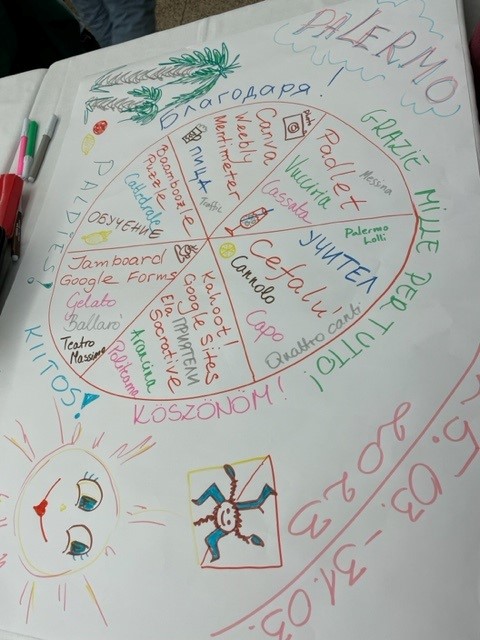 Saturday 1 April
We received the course certificates and did some final practical works. Group photos were taken, and I enjoyed the last afternoon coffee with the Hungarian group in the historical old centre of Palermo. The long way back home started from Palermo Lolli Station in the afternoon and continued without too much hustle and bustle by plane. I had a stopover in Munich, and arrived in Helsinki at 0120 at night. The trip was an adventure, and I recommend other teachers in WinNova to take the opportunity and apply to one of the available Erasmus+ courses.